Warping (転送, Tensō?) is a stolen Quirk from an unknown person used by All For One.
Description
This Quirk can produce a black liquid that acts as a portal, similar in nature to Kurogiri's Warp Gate. Also similar to Warp Gate, this black liquid can also teleport people by engulfing them whole.
It appears All For One can use this Quirk on a large scale as he can produce multiple black liquid portals.[1]
This Quirk, however, has a couple of limitations. Unlike Kurogiri's Warp Gate, it is not coordinate-based, meaning Warping can only warp things to and from the user's current location. The destination of the warping is also limited exclusively to the immediate area around someone that the user happens to know extensively. Kurogiri, however, is seemingly able to warp people and objects to any location.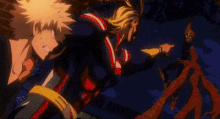 It appears that All For One requires his left arm to be able to use this Quirk as he was shown being unable to when All Might crushed it.
It is implied that the black liquid smells very bad.

References
↑ My Hero Academia Manga and Anime: Chapter 88 and Episode 47.
External Links
Teleportation - Wikipedia article about the concept this Quirk revolves around.