Snake Hair is a Quirk used by Uwabami.[1]
Description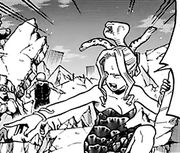 This Quirk grants Uwabami a trio of living snakes as part of her hair, which are implied to be a part of her biology. The snakes have excellent senses, which Uwabami can utilize in order to locate hidden enemies as well as disaster victims.[1]
It is unknown if the snakes have any sort of offensive purpose. Additionally, it is also unknown if Uwabami had any control over the actions of the snakes, or if they can act independently of her. It is also unknown what species the snakes are, thought the center one appears to be a Cobra of some kind.

References
Ad blocker interference detected!
Wikia is a free-to-use site that makes money from advertising. We have a modified experience for viewers using ad blockers

Wikia is not accessible if you've made further modifications. Remove the custom ad blocker rule(s) and the page will load as expected.