Queen Bee (女王蜂, Joōbachi?) is a Quirk used by Kuin Hachisuka.
Description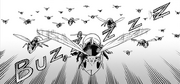 Kuin's Quirk is a swarm of Apocrita, bee/wasp-like creatures, nested behind a medical patch in her left eye. The number of insects produced are numerous as she is able to dispatch her phalanx to cover a heavily populated metropolitan area.
Kuin is bio-physically connected to the swarm and receives pain whenever they are injured or destroyed as well as gain insight to whatever experiences or information they glean. The stingers act as syringe delivery systems which are useful for the injection of drugs or other such contaminants.  
Kuin is also able to make them explode, but the damage done does not appear to be large, and she can only make so many of them explode since she also receives pain.
The Quirk stems from a parasitic, bee-like creature that implants itself into it's host. It is unknown how it does this, but it somehow connects to the host's brain to control it.[1]
References
↑ Vigilante - My Hero Academia: Illegals Manga: Chapter 26.