Manifest (再現, Saigen?) is a Quirk used by Tamaki Amajiki.
Description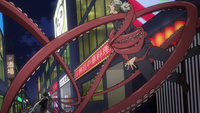 Manifest grants Tamaki Amajiki the ability to enhance his body parts with the characteristics of anything he consumes. [1]
Tamaki can manifest anything he eats into any limb of his choice. For example, if he eats Takoyaki, he can transform his fingers into Octopus tentacles. If he eats a clam, he can harden his hands into a clamshell etc. Tamaki can use multiple transformations at once and can make these alterations to his body simultaneously. This gives Tamaki near limitless variation to the traits he can use.
Tamaki can only manifest edibles within his body's system, meaning that he must replenish his arsenal by eating certain foods every single day. The items do not necessarily have to be food, as anything Tamaki can manage to consume will work with his Quirk.
So far, he has been shown transforming his body parts into:
| Eaten | Alteration |
| --- | --- |
| Bean Sprout | Plant Growth on Hand |
| Takoyaki | Tentacle fingers |
| Clams | Clamshell Shield |
| Chicken | Wings and Talons |
| Beef Bowl | Cow hoof |
| Swordfish | Swordfish arm |
| Crab | Pincer hand, armor |
| Hojo's Crystal | Crystal armor |
Known Combinations:
| Combinations | Alteration |
| --- | --- |
| Takoyaki + Crab |  Crab Shell hand with tentacle fingers |
| Hojo's Crystal + Chicken Leg | Crystallized Chicken Leg |
References
↑ My Hero Academia Manga: Chapter 132.