'My Hero Academia' Profile: Ibara Shiozaki
Ibara Shiozaki (塩崎茨, Shiozaki Ibara?) is a student in Class 1-B at U.A. High School.
Appearance
Ibara Shiozaki is a young woman with long, green, thorn-covered vines for hair. One set of vines wraps around her forehead. She has dark eyes and is regarded as cute by Denki Kaminari.[2]
Personality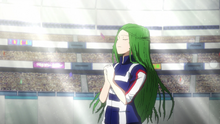 Ibara is a very modest and courteous person who makes her humility clear after Present Mic calls her an assassin. Although graceful and soft-spoken, she is not afraid to make her pure intentions known.
She showed her gratitude after receiving a second chance to participate in the U.A. Sports Festival and made her objective to spread good across the world apparent before her fight with Denki.[3] Ibara also prefers to be fair and square, as she disagreed with Neito's plan to throw the Obstacle Course and placed fourth instead.[4]
Abilities
Quirk
Vines (ツル, Tsuru?): Ibara's Quirk allows her to grow vines on her head which she can extend, attack, and grab with.
Stats
Power

 

3/5 C
Speed

 

4/5 B
Technique

 

5/5 A
Intelligence

 

3/5 C
Cooperativeness

 

3/5 C
Ibara's stats, according to the Official Character Book
Battles & Events
Trivia
Ibara ranked 4th during the Entrance Exam with 36 Villain Points and 32 Rescue Points.
Ibara's favorite food is bread.
Ibara was originally planned to be in Class 1-A.
Kohei Horikoshi commented that he finds it painful to draw Ibara's hair.
Ibara's religious nature and Quirk is likely a reference to Jesus Christ and the 'crown of thorns' that was placed on his head. This is also referenced in her hero name Maria, a reference to the latin name for the the Virgin Mary.

Her birthday is September 8, which is also the birthday of Virgin Mary.
Quotes
(After defeating Denki Kaminari) "Yes... I have not wasted the opportunity bestowed upon me..."[5]
References