The Hover Soles (ホバーソール, Hobā Sōru?) are an equipment developed and created by Mei Hatsume of the Department of Support.
Description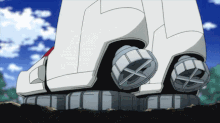 The Hover Soles are two big metallic boots that have turbines implanted inside them, which allows the wearer to hover above the ground.[1] It can also be used as a landing gear to cushion the fall.[2]

Users
References
↑ Boku no Hero Academia Manga: Chapter 25
↑ Boku no Hero Academia Manga: Chapter 26
Ad blocker interference detected!
Wikia is a free-to-use site that makes money from advertising. We have a modified experience for viewers using ad blockers

Wikia is not accessible if you've made further modifications. Remove the custom ad blocker rule(s) and the page will load as expected.