Hell Flame[1] is a Quirk used by Endeavor.
Description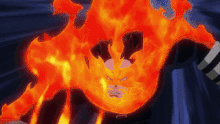 Hell Flame gives Endeavor pyrokinetic abilities. He can create and control fire at will, as well as shape the flames as he sees fit. He also has the ability to control the fire's temperature, and can heat it up to the point where it even turns blue. Although he is almost always seen covered in flames, Hell Flame is activation-based and can be deactivated.[2]
Hell Flame has various physical applications. By heating his flames to such a high degree, Endeavor can burn his opponents at a cellular level and easily overwhelm healing type Quirks. He can shape the flames into balls or weapons that he can throw and can even heat up the soles of his feet to run along walls by creating melted points in the surface. [3]
References
↑ My Hero Academia: Episode 23
↑ My Hero Academia: Episode 30