Hardening (硬化, Koka?) is a Quirk used by Eijiro Kirishima.[1]
Description
Eijiro's Quirk gives him the power to harden any part of his body.
The ability not only protects Eijiro from physical attacks, but also from heat and shock waves. This Quirk is strong enough to protect its user from several tons of metal falling on him as well as multiple explosions through an extended amount of time. It's also possible to increase the strength and resistance of the hardening for a limited amount of time.[2]
Aside from the defence buff, his quirk also grants him offensive power, as the hardened skin seemingly has sharp edges that can cut the enemy on impact.
The drawback to the Quirk is that there is a limit to how much damage the hardened skin can withstand, causing the hardening to slowly dissipate.[3] Originally, this Quirk only slightly hardened Eijiro's skin, but he was able to improve its effects ever since.
Named Techniques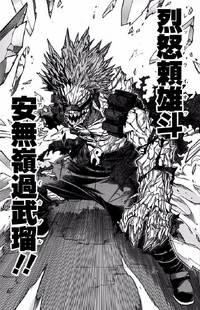 Red Riot Unbreakable (烈怒頼雄斗 安無嶺過武瑠

Reddo Raiotto Anbureikaburu

?

): Eijiro reaches his maximum hardening level by turning his entire body extremely hard and rugged, leaving him with a monstrous appearance and practically invulnerable to most forms of attack. At first, this form can only be maintained for around 30 to 40 seconds, but we later see Kirishima entering and maintaining it more easily.[5]
Trivia
Like several other Quirks, Hardening has its own signature sound effect: "SKLIT".
This Quirk is very similar to Steel, and the two appear to be roughly equal in terms of power and effectiveness.
This Quirk, in terms of function, is the inverse of Reinforce, which consists of hardening foreign objects instead of one's own body.
References
External Links
Hardness - Wikipedia article about the property Eijiro's Quirk is based after.