Erasure (抹消, Masshō?) is a Quirk used by Shota Aizawa.
Description
This Quirk allows Shota to cancel other Quirk powers and abilities simply by looking at the target.[1]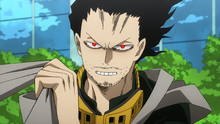 With Erasure activated, Shota can rob people of their main method of fighting: Quirks. Thus people affected by it become easier for Shota to defeat or restrain. For unknown reasons, Shota's hair stands upwards and his eyes glow in a bright red color whenever the Quirk is in use .
While this Quirk is extraordinarily powerful in a Quirk-dependent society, it does have many weaknesses:
If Shota utilizes this ability for a long period of time, his eyes start to dry out.[5]
This Quirk only works on Emitter-Class and Transformation-Class Quirks.[6] However, it was revealed that he can deactivate certain Mutant-Class Quirks' Quirk Factor, somewhat disabling their function. For example, he would be capable of making Mashirao Ojiro unable to control his tail, or Tenya Iida activate his leg engines, but he cannot remove those traits from their bodies.
Physical strength or abilities that don't come from Quirks are unaffected.[7]
Due to the after-effects of the injuries he sustained at the USJ, when Shota activates and deactivates his Quirk, there is now an interval where his Quirk must recharge until he can use it again; Shota is unable to use his Quirk during this recharge interval.
Whenever Shota's Quirk gets interrupted, his hair falls down to its original position, which an observant enemy can use to predict a potential opening for an attack.
References
External Links
Dry eye syndrome - Wikipedia article about the medical condition that manifests on Shota when he overuses his Quirk.