Dark Shadow is a Quirk used by Fumikage Tokoyami.
Description
This Quirk allows Fumikage to host a "shadow like-monster" that he can materialize from his body and contract it back freely as a sort of extension. Fumikage can use this shadow being for a number of purposes, such as attack, defense and support. Dark Shadow has been shown to be sentient and capable of speech. It also has an energy limit, retracting into Fumikage's body when said limit runs out. According to Mezou, Fumikage's negative emotions (such as regret and indignation) probably intensifies Dark Shadow, making it more unruly and possibly making Dark Shadow stronger as a result, albeit at the cost of Fumikage losing control.
The personality, strength, defense and control of Dark Shadow depends on the surrounding light conditions. Under strong light, Dark Shadow is weaker but, despite this, still has extraordinary defensive skills as it was able to completely block moves like Katsuki's Explosion without suffering any damage as well as defend against Denki's Electrification (despite having weaknesses to both Quirks due to them working as light sources). Dark Shadow's personality under light is docile, allowing Fumikage to control it with ease.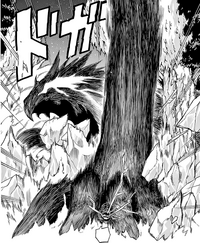 Under little to no light, Dark Shadow becomes far larger and ferocious, and as a result far more powerful. One of Dark Shadow's claws was able to rip through multiple trees with ease when trying to attack Izuku; Dark Shadow's physical strength is immense as it was able to defeat Moonfish, a veteran villain, with a single strike, completely shattering his sturdy weapon-like teeth in the process. Dark Shadow's personality completely changes when surrounded by darkness, becoming more unruly, vicious and attacks indiscriminately, striking anything that moves or makes sound. It appears keeping Dark Shadow under control during the night where darkness is most prominent is a great struggle for Fumikage as it requires all his focus. Once Fumikage loses control, Dark Shadow starts enveloping Fumikage's body with its darkness and takes control over its host, with Fumikage slowly becoming immobile both physically and mentally. After taking over Fumikage, Dark Shadow uses its immobile host to move around.
Named Techniques
Black Ankh (深淵闇躯

Burakku Anku

?

): Fumikage's special move (previously known as Tenebrous Abyss Body (

深淵闇躯

Shin'en Onku

?

), he dons and equips Dark Shadow onto himself, wearing it like a suit of armor or an exoskeleton. According to Fumikage, equipping Dark Shadow onto himself mitigates his physical weaknesses.[1]

Piercing Claw of the Dusk (

宵闇よりし穿つ爪

Yoiyami Yorishi Ugatsu Tsume

?

): Fumikage shoots out Dark Shadow's claw which attacks at great speed.[2]
References
↑ My Hero Academia Manga: Chapter 101, Page 14
↑ My Hero Academia Manga: Chapter 104, Page 6
↑ My Hero Academia Manga: Chapter 108, Page 13
Ad blocker interference detected!
Wikia is a free-to-use site that makes money from advertising. We have a modified experience for viewers using ad blockers

Wikia is not accessible if you've made further modifications. Remove the custom ad blocker rule(s) and the page will load as expected.