Curator (キュレーター, Kyurētā) is an original villain from the My Hero Academia: Clash! Heroes Battle arcade game.[1]
Appearance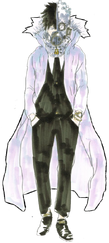 The Curator messy black hair, and baggy eyes. Half of his face is covered by a gray diving helmet with barnacle-shaped protrusions, which has a large collar with a lock on it, underneath this mask his face is dark blue with a large eye, sharp teeth, white hair and a blowhole on his forehead. He wears a black suit underneath a light purple, flamboyant coat with a large, fluffy collar. His wrists also have gold jewelry on them.
Personality
He was a cold and calculating individual completely focused on his goals unless his helmet breaks then he goes a Berserk rampage attacking everything around him.
History
He was a horrible and dangerous villain who conspired to dominate humanity.
Synopsis
Quirk and Abilities
Whale (鯨, Kujira?): Curator's Quirk allows him to transform parts or all of his body into a whale, specifically a sperm-whale. He was seen transforming his hand into that of a sperm-whale and growing a whale tail. He can fire a stream of water from his mouth in his full transformation.
Moves
Equipment
Helmet: Curator uses his helmet to contain his Quirk in normal situations.
Trivia
The Curator shares his design with the character Isana From Kōhei's previous work, Oumagadoki Zoo.
Quotes
References