Centipede is a Quirk used by Centipeder.
Description
This Quirk grants Centipeder long, centipede-like limbs (arms, legs, and head).
He can use his Quirk to attack or restrain enemies from afar. With the exception of his head, those centipede limbs are usually hidden within his clothes.
Additionally, Centipeder's pincers are venomous, with the poison causing intense pain against victims.
Named Techniques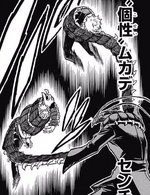 References
↑ Boku no Hero Academia Manga: Chapter 139, Page 6
Ad blocker interference detected!
Wikia is a free-to-use site that makes money from advertising. We have a modified experience for viewers using ad blockers

Wikia is not accessible if you've made further modifications. Remove the custom ad blocker rule(s) and the page will load as expected.