Acid (酸, San?) is a Quirk used by Mina Ashido.
Description
Mina's Quirk allows her to create corrosive liquid from her skin, being able to control its levels of solubility and viscosity. This Quirk also alters Mina's skin pigment, resulting in her having a pinkish skin.[1]
Acid is primarily used to melt solid objects, making it useful as a way to create entrance holes on surfaces or destroy enemy equipment. Offensive uses aside, Acid can also be used to make the ground slippery for sliding around or to climb walls by melting the spots where her hands and legs touch.[2] Creating barriers is possible as well, being done by producing extremely viscous acid and gluing it on surfaces.
Mistakes can cause Mina to dissolve her own clothes accidentally. She also has a limit of how long she can keep producing acid through her skin, gradually losing her natural resistance to her own Quirk.[3]

Named Techniques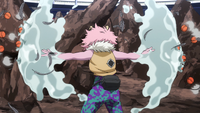 Trivia
Like several other Quirks, Acid has its own signature sound effect: "GLOOP".
References
External Links